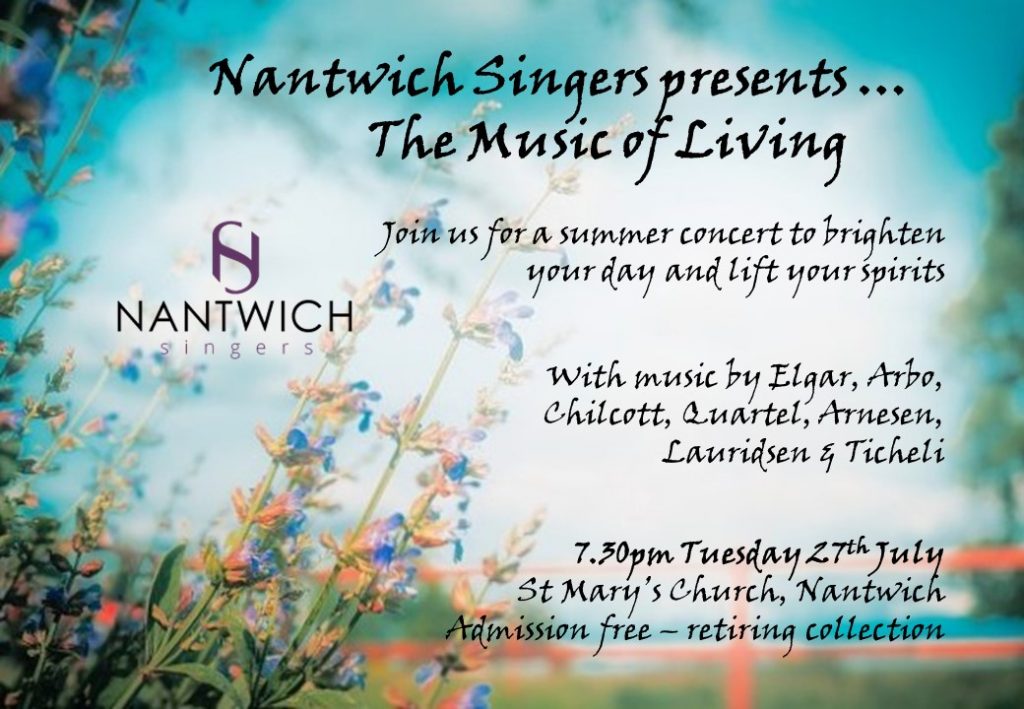 Tuesday 27 July at 7.30 p.m.
Summer Concert at St. Mary's Nantwich
"The Music of Living"
We are thrilled to be taking part in the Summer Concert series at St. Mary's, Nantwich and we are glad to be joined once again by pianist John Gough.
The music of living is a wonderful compilation of songs to evoke the pleasure and jubilance of life and of summer.  What better way to cast off the long, silent lockdown months than with a summer concert rich in musical delights.
Featuring music by composers including Chilcott, Lauridsen, Bairstow, Elgar, Vaughan Williams and Finzi, and with both a capella and accompanied songs, The music of living promises to be a joyous and moving concert.  We are particularly proud to be performing songs by female composers Rani Arbo and Sarah Quartel.
The music of living includes several pieces which are new to our repertoire, including Earth Song by Ticheli and Even when he is silent by Arnesen.
We hope that you will join us for what will be an enjoyable summer occasion, and we look forward to seeing and welcoming you.
Proposed Programme: NS Summer 21